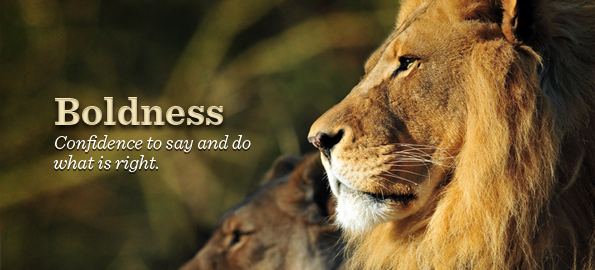 παρρησία
(
parrēsia
occurs 31 times in NT) means "free and fearless confidence, cheerful courage, boldness, assurance," "
outspokenness, liberality
," "freedom in speaking, unreservedness in speech:
openly, frankly, i.e without concealment.
without ambiguity or circumlocution.
Some occurrences of παρρησία:
People observe Jesus speaking publicly and openly (Jn 7:26).
Jesus declares that he spoke openly to the world (Jn 18:20).
"When they saw the courage of Peter and John and realized that they were unschooled, ordinary men, they were astonished and they took note that these men had been with Jesus" (Ac 4:13, NIV). "Courage" is also translated "boldness" (Ac 4:13, ESV, HCSB, NLT) and "confidence" (Ac 4:13, NASB).
Amid threats, the early Christians prayed to speak the word of God with boldness and confidence (Ac 4:29) and they did (Ac 4:31).
While in a Roman prison for two years Paul "proclaimed the kingdom of God and taught about the Lord Jesus Christ—with all (full) boldness and without hindrance!" (Ac 28:31, NIV).

Because of what Christ has accomplished, "

we may approach God with freedom (boldness) and confidence" (Eph 3:12).
Paul asked the Ephesians to pray for him to have boldness (fearlessness) to proclaim and make known the mystery of the gospel (Eph 6:19).
Because of Christ our high priest who is able to sympathize with our weaknesses, we may boldly approach God's throne to receive mercy (Heb 4:16).

We may have boldness/confidence in prayer (1 Jn 5:14).